We kick-started this new year - 2021 - with fantastic funding from the Inclusive Recovery Fund from Unltd.com, through their partners Comic Relief and the Department for Digital, Culture, Media Sport (DCMS).

Thanks to their generous funding, we were able to welcome our brand new Digital Assistant, Carmina!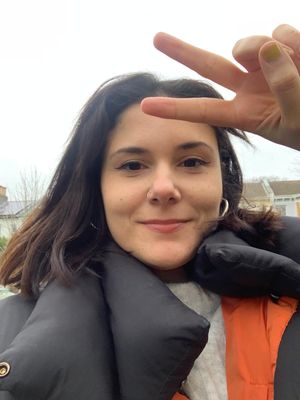 Carmina has come to Brighton from Barcelona with lots of experience promoting music venues and working with Arts organisations in Spain. She has already made a huge impact by updating and re-designing our Go Kid Music website.
As a singer-songwriter, I (Al) have had to learn a great deal about how to run a business! It's a steep learning curve I can tell you! I have had support along the way from many different people and sources, but recently I have been flying solo! Now, with Carmina's help, we will be able to reach many more children and families and support more schools with our fantastic music resources.
The funding is enabling Carmina to train using the government's Digital Apprenticeship scheme. She will have 15 months' intensive training via providers Creative Process Digital and will learn every aspect of Digital marketing in the UK. She'll be able to build on her skills and experience and take it to the next level!
This opportunity would not have been possible for us without the Inclusive Recovery Fund as we have been so affected by Coronavirus. No live events, no school singing and losing chunks of our regular income has been tough.
However, it's onwards and upwards! We have online memberships and children's activities and clubs, live streaming events and plenty more to come!
Our aim this year is to reach children who are staying in hospital or residential care. We intend to offer free music resources, songs and activities to the children and their families for free.
We are also developing our schools educational music support for children who are affected by early trauma. Many children struggle with conventional learning and we will be reaching more children than ever with our amazing topic-based songs and our online resources...watch this space!
We hope you are enjoying finding out all about what we offer here at Go Kid Music and how we can enrich more children's lives through music! Do get in touch if you'd like to be involved.
I know you'll join me in wishing Carmina well for the next 15 months having to put up with me! 🤣🤣🤣
Huge thanks again to our funders for making such a positive impact on the work we can now do!